AICSYS Inc. an Industrial PC hardware manufacturer, announce the new product of 2U Rackmount Chassis: RCK-204M2, an ideal product for small / medium IPC/Infotainment system applications. This 2U server chassis provides high functioning performance and less instrumental operations process with reliable high efficiency single or redundant power supply.
The RCK-204M2 provides a durable solution to any server application, while still remaining compact size for industrial office or home solutions. The RCK-204M2 is a practical 2U rackmount server chassis, by providing cost effective for stress free installation and maintenance. It equipped with security features for lockable front door for extra protection.
RCK-204M2 supports ATX motherboards or Dual CPU server boards providing excellent upgrade potential. RCK-204M2 can support up to four Drive bays – (1) 5.25″ & (1) 3.5″ ext. Drive bays, and (2) int. 3.5″ Drive bays. With the support 2U Riser Card for additional peripherals up to (3) PCI slots, or (1) PCI slot and (2) PCIe slot for additional peripherals. (2) 8cm ball-bearing fans ensure an efficient airflow ventilation for heat sensitive application. To support critical operating system, the chassis has an options for up to 500W single and for 380W Redundant Power supply.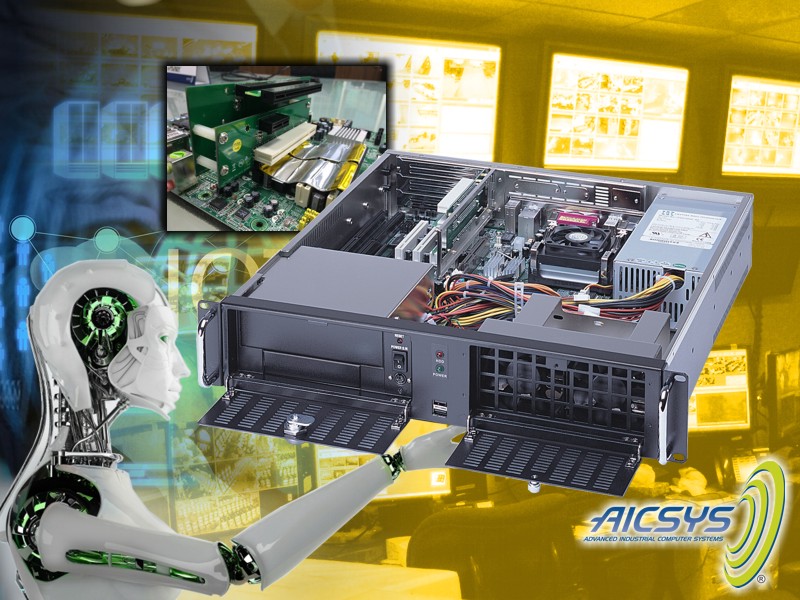 Aicsys Inc. dedicated to provide better quality products, we offers a full range of Value Added Service for OEM/ODM projects on our IPC chassis, backplanes and SBC applications etc. by having almost twenty year of manufacturing experiences as advantages in Taiwan with excellent design and quality products.
Product Features:
EIA RS-310C 19″ Rackmount Standard
Heavy-duty Steel with Ni plating
Supports ATX Motherboard
Lockable Front Door for Maximum Access Security and Replaceable Dust-proof Air Filter
PS/2 connector on front panel
(2) USB ports on front panel
(2) 80mm Ball-bearing Fans
2U Riser Card

PCI-303: (3) 32-bit PCI slot
PCIE-303: (2) 32-bit PCI slot, (1) PCIe x16 slot
PCIE-303A:(1) 32-bit PCI slot, (1) PCIe x16 slot and (1) PCIe x 16 slot

Up to 2U 500W Single or 2U 380W Redundant Power supply